Sleeplab by Celeste Home Fashion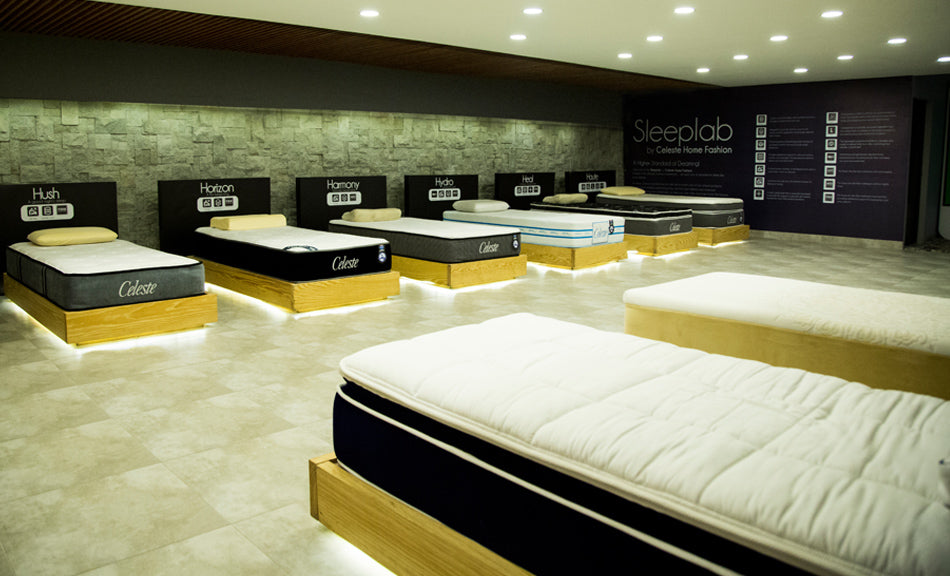 Sleep helps the human body reset, recharge and rejuvenate itself. It is a known fact that poor sleeping habits and sleep deficiency can cause chronic health issues. Your relationship with your mattress is one that ties in closely with your sleep routine; a poor choice in mattress can lead to various physical illnesses which affect mental peace and health in the long term.  Hence, it is important that you make a wise and well thought out decision while choosing one.
Introduced for the first time in Pakistan, the Sleeplab by Celeste Home Fashion. This concept is the first of its kind as a space dedicated to providing the best sleep experience. Our aim is to invite our customers to try each product, be it a mattress, pillows or other comfort accessories, as they should be experienced – in a private, relaxed, sleep-friendly environment, and help them understand the value of sound sleep. Only when you and your body experience different types of mattresses can you find out what fully satisfies your relaxation needs. The Sleeplab by Celeste Home Fashion allows you to get that feel and enables you to pick the mattress that best defines your sleeping requirements.
We at Sleeplab realize the optimum support a human body requires during slumber. Hence, our product range is designed by integrating the latest technology and innovation to address the core needs. The dual layer pocket spring with natural latex in Haute provides superior back support for a perfect sleep posture. Memory foam in the dual-sided Hybrid moulds itself according to each individual's body shape and provides personalized sleeping experience. Harmony pocket spring is made with an added foam layer to give a medium back support throughout the night. Hydro mattress has memory foam infused with cooling gel beads to regulate body temperatures and pressure absorbent pockets to stabilize body weight. Formulated with cool gel beads, Hydro Cool Gel is made with superior airflow technology to control the body temperature. For those who prefer their mattresses on the more plush side, Halo provides an unforgettably comfortable experience. While on the other hand, Horizon is for those who prefer firm support in their sleep routine. Heal with medicated ortho foam is formulated understanding the health related issues of those suffering from chronic back and body aches. And lastly, Hush, with its added feature of Bonnel coil gives provides a simple, unfussed sleep experience.
These combined with our range of pillows and accessories including quilts and throws for all seasons are guaranteed to make each sleeping experience personalized and different from the other. So come in today and let us show you a side of peaceful sleep you have never experienced before.  A world of comfort and contentment awaits!