The Art of Relaxation: Creating Luxurious and Comfortable Seating Solutions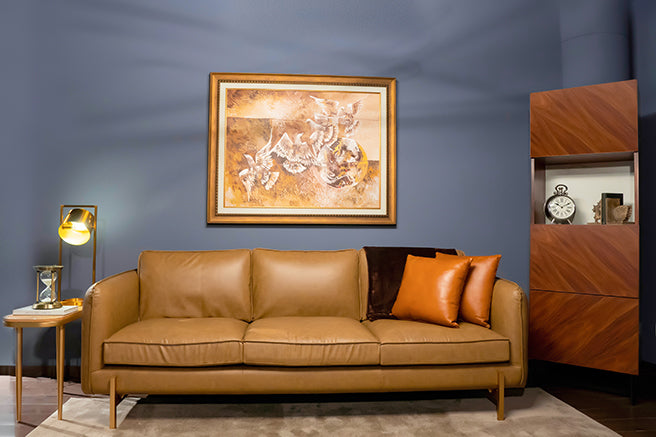 Comfortable seating is more than just a luxury; it's an essential element that can transform any space into a haven of relaxation and tranquility. Imagine a world where every seat invites you to unwind, where the stresses of the day melt away as you sink into plush cushions. In this world, the Atticus and Ace chairs take center stage, offering not only refined design but also an unparalleled sense of comfort. In today's fast-paced life, the significance of comfortable seating cannot be overstated. It's where we recharge, find solace, and connect with loved ones. Join us on a journey as we explore how these chairs redefine relaxation, blending style and comfort seamlessly. Welcome to a place where comfort meets luxury – a spot where relaxation is all about enjoying life to the fullest. Come along as we explore the world of chilling out in style, with our fantastic Clayton and Caroline sofas, and the classy Atticus and Ace chairs and redefine what it means to kick back and enjoy life's simple pleasures.
Unveiling the Clayton Sofa
Picture yourself in a realm of luxurious living, where each element has been carefully designed for your relaxation. Enter the world of the Clayton Sofa. This sofa boasts a sleek and distinctive profile, hand-upholstered in leatherette, creating an edgy yet sophisticated look. Its slim frame is elegantly complemented by gold accent legs, adding a touch of opulence. But it's not just about aesthetics; the Clayton Sofa offers a supremely plush seat that beckons you to unwind. Sink into its sumptuous cushions and let its embrace transport you into a realm of unparalleled comfort. The Clayton Sofa isn't just a piece of furniture; it's an experience, a sanctuary where relaxation becomes an art form.
Caroline Sofa: Elegance in Every Detail
Step into the world of refined craftsmanship and luxurious living with the Caroline Sofa. This sofa is designed to delight those who savor life's finer pleasures. With its rolled arms, a sheltering back, and a plush bench seat cushion nestled within its rounded and well-padded frame, the Caroline Sofa is the epitome of comfort. Its solid wood legs offer a warm contrast to the lustrous upholstery, making a statement of sophistication. But it's not just about looks; this sofa boasts generous cushions that invite you to recline in style. The Caroline Sofa is more than just a seat; it's your personal haven of relaxation, capable of transforming any space into a sanctuary of tranquility.
Experience True Comfort: Meet the Atticus and Ace Chairs
Our exploration into the world of relaxation would be incomplete without introducing you to the Atticus and Ace chairs.
First, let's take a seat in the Atticus chair – a symbol of grace and comfort. With its sleek, ultra-modern style and a gold accent finish, this chair makes a statement. Its square base, extra-deep seat, and wide perfectly angled back creates an atmosphere of complete relaxation. It's your ideal companion for those moments when you seek a bit of reprieve.
Now, let's turn our attention to the Ace chair. This chair reimagines classic style with a modern twist. Its silhouette flows seamlessly with an exaggerated wingback, giving a bold update to a traditional design. The fine upholstery not only adds irresistible texture but also infuses a playful, casual vibe. With clean lines and a contemporary design, the Ace chair effortlessly combines aesthetics with comfort. Whether you're seeking solace in a quiet corner or enjoying lively conversations with friends, the Ace chair promises an unrivaled seating experience.