Home Furniture Trends for the Way we Live Now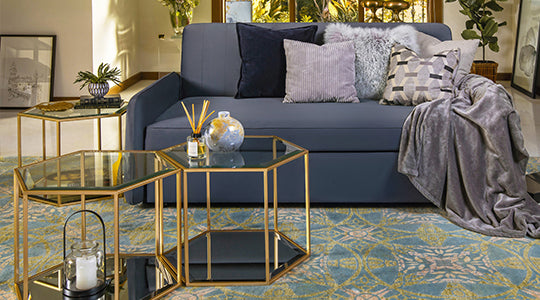 They say a good piece of furniture must last for at least five years! We say why not? In the pursuit of creating a warm and inviting home, investing in high-quality furniture is paramount. From the wood and fabric used to upholstery, these materials play a significant role in keeping the furniture in a great shape.
Let's explore how to transform your home into a fashionable, yet timeless haven.
The Living Room: A Haven for Relaxation
Your living room is the heart of your home where you unwind with your loved ones. We understand your need to curate an inviting atmosphere and a comfortable sofa is what sets the tone for the entire space. Whether your style leans towards formal, transitional, or contemporary, the sofa becomes the centerpiece that leaves a lasting impression.
Adding Depth with Contrasting Neutrals
While neutrals like white, gray, beige, and black are en vogue, infuse depth into your home by introducing contrasting elements. If you want to add richness and warmth to your living spaces, complement white walls with a caramel leather recliner, a touch of gold metal, and a mix of light and dark colors.
Embrace Natural Elements
Evoke a sense of harmony and tranquility by adding natural fabrics and materials in your space. Cotton, leather, stone, metal and glass can go a long way in making your home more inviting and welcoming.
Greenery through houseplants adds a finishing touch, while embracing natural light enhances the overall atmosphere.
Texture: A Timeless Touch
Textures never fail to captivate! Regardless of your preferred style, texture always gives an interesting spin to your interiors. Introduce textured rugs, plush throw pillows, and cozy blankets to make your room feel comfortably inviting. The introduction of wood through accent tables and wood-framed chairs and sofas adds a touch of warmth and elegance.
Embrace Simplicity: Less is More
As the saying goes "less is more". Contemporary living calls for less cluttered spaces and minimal embellishments to evoke a calming effect. Go for one statement console piece rather than numerous small pieces that make the space overwhelming.
Harmonizing with Neutral Decor and Pops of Color
Add a sense of harmony is your space by adding neutral toned large furniture pieces and area rugs. Earthy tones such as browns, greens and blues make your space soothing and timeless. If you feel the need to pop up the space, add a vibrant upholstered accent chair.