Dreamy Furnishing For Your Luxury Bedroom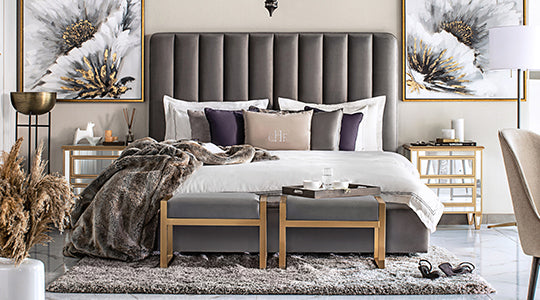 The world today is fast changing which means that people now believe in creating impactful spaces that not only remind them of nostalgia but also make feel home.
People now effortlessly combine various elements from multiple eras, styles, and places. They like to keep it contemporary yet cool, antique yet having a modern flair to it. This new sense of style makes any space look modestly classic.
Let's be honest, there's something about a room that stimulates your nostalgic senses, all the while creating a balance that renders pure harmony and elegance.
No matter what your style of choice is, darker hues are going to dominate design aesthetics in 2023. Although white interiors have been an industry favorite for quite some time, designers have been dipping their brushes into some darker hues – suggesting a real change in the atmosphere.
Moreover, there is an yearly choice of color that influences not only designers but people from all industry background from fashion to marketing to advertising and interiors. This year that shade is a darker magenta and as this beautiful shade along with others adding to the dark pallet are taking fashion choices up a notch.
I know what you're thinking – aren't darker colors going to give off a gloomy, depressing vibe? Well, truth be told, it is actually quite the opposite! Darker hues can add so much depth to your space by allowing your lighter colored pieces to pop. Your furniture, artwork, and statement pieces will all come to life and take center stage against the moody backdrop.
Now let's focus and talk about luxury bedroom furniture and designs. Your modern bedroom should be the place of your dreams! It's your resting space, a very personal place, where you spend a lot of time and it deserves a luxury interior design.
The luxury bedroom furniture and design provide the perfect opportunity to display personal tastes and preferences. Merging sophistication and relaxation, the resting place is all about luxurious design, glamorous details, and calming atmospheres. So, investing in the master bedroom design is a priority; it deserves all your attention.
Mixing industrial style with luxury details, the master bedroom furniture design presents strong lines with subtle details in one unifying interior design! dark master bedroom furniture design with statement high-end luxury bedroom furniture, starting with an imposing headboard design. A stylish bedroom with both functionality and looks!
If you're looking for THE perfect bedroom furniture, these modern luxury bedroom designs will give you the bedroom of your dreams. The best part? These all go together perfectly! From the bigger furnishings like the bed to the clever finishing touches that make all the difference.
Our wide range of solutions covers all your choices from sumptuous furnishings and upholsteries to exquisite lighting designs, and even walk-in closet ideas, a series of inspirations that will certainly give you an idea on how you can modernize and upgrade your bedroom Furniture decoration, and ultimately create the perfect bedroom Furniture design!
Beds and nightstands are the most essential pieces of a bedroom Furniture design and as such one ought to be careful when selecting, not only when it comes to style but also functionality and comfort.
A comfortable bed is the center of attention and it is important to find a design that makes your personal space look exquisite yet comfy. When it comes to beds, there are so many others, you can either go for a more minimal approach or perhaps go all out and pick one with a massive upholstered headboard.
In regards to consoles, it can be quite difficult selecting one, seeing that there are so many options in different colors, shapes, and textures. The most important thing here is to select one that matches perfectly with the bed and has enough space to place your things, from lights to magazines, among others.
Bedroom lighting is one of the most important aspects to take into consideration when decorating one's chambers. They are bound to set the mood and provide an elegant touch to the overall bedroom Furniture design. Lighting ideas will certainly help create the perfect lustrous haven!
Last but not the least, adding soft and plush upholsteries to your bedroom is an excellent way to make it look appealing.
In addition, it is important to have other seating areas that complement the bedroom as the bed should not be the only place that is to settle. These cushioned designs will add warmth and coziness to your bedroom Furniture design. Perhaps, opt for pieces that are made of either velvet or leather and also have an antique touch to them.