Luxury Furniture Design Inspiration for the Wedding Season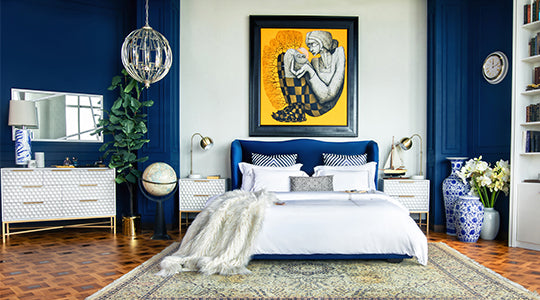 Decorators know that choosing Luxury furniture design with an aesthetic appeal will accentuate the interior design of your home and delight the senses. The aesthetic of a piece of furniture refers to its beauty and artistry.
While some brand manufacturers are better known for value and functionality, others are also known for their exceptional aesthetic luxury furniture design. If you want your home to stand out and express your good taste, look for furniture designs & pieces that appeal to your emotions and senses.
It's very easy to get overwhelmed when it comes to mixing different looks in your home. When done well, mixing modern luxury furniture with vintage looks can look very stylish and allows you to introduce interest into your home that may mostly feature modern & Luxury furniture design.
Here are some moderate updates that can make a big difference! Some tips that give panache to your favorite room in the house.
A Splash of Color
Today's trending neutrals are calming and cool, whether you choose white and gray or a light beige color palette. But you may feel that something is missing, even though the decor matches. By adding a splash of color you can inject your personality and add interest to your home.
When many of us think of neutrals, we think of blacks, whites, greys, and beige tones. To complement the standard colors, add an unexpected hue like soft pink, sage green, or soft blue to the mix to maintain the neutral effect and add life to your decor.
A Different Furniture Style
Bring in a contrasting style to really spice things up. If you have a contemporary home, find a beautiful chair with curves and a rich wood frame with high quality foam. If you have traditional furnishing, try adding a sleek contemporary piece for interest.
Add an interest:
Placing a couple of photos in strategic places, accessorizing with patterned rugs and artwork, or adding some unusual accent pieces like an end table, a coffee table or a chair with personality. 
Decorators are aware of the significance of intriguing accent items in elevating a space. Entrancing accent tables and chairs provide more function in your room in addition to personalizing your living space.
Noteworthy patterns, fascinating lighting and sophisticated accent furniture design can go a long way in adding interest to your room and make it appear larger and more important. Use layers that accentuate carefully selected furniture to create an inviting atmosphere.
Multifunctional Space:
Create a convenient multifunctional space by turning your home office into a guest bedroom when visitors come to stay. Add a sofa sleeper that is a comfy spot to take phone calls by day and a bed for guests by night. Sofa Beds have come a long way in terms of beauty and comfort in recent years, and you can find one in the style you want, from timeless classics to modern contemporary.