Style Guide For Modern Luxury Bedroom Furniture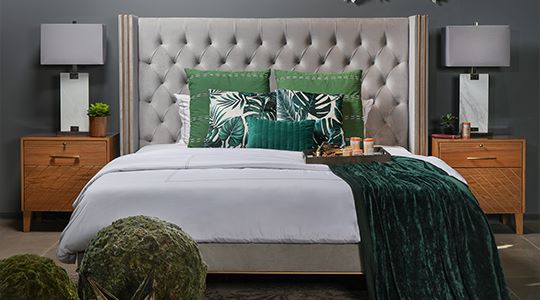 A bedroom is every person's safe haven. It's a place to rest and be yourself without having to keep up for everyone. It's the spot where you come to unwind and find blissful moments of peace. When it comes to decorating your bedroom, the possibilities are endless. Here is a list of simple bedroom décor ideas that will enhance the outlook of your space. Whether you have a large master suite or a small guest room, these tips and tricks will add style and personality to any bedroom.
   

Choose Furniture That Fits the Room
As you shop for new bedroom furniture, make sure it fits the room nicely. Layout your floor plan and take measurements before you decide to buy anything so that it helps you find the right pieces for your sleeping space. Look for a chest and dressers that have ample drawers for storage without being too bulky. Make sure the bed, dresser, and other furniture fits nicely while still providing ample floor room for you to walk around. A tall headboard looks beautiful in bedrooms with high ceilings, but it might be too overbearing in a standard-size or smaller bedroom. Always purchase bedroom furniture that's functional and that fits into your room appropriately.
   

Use Accent Furniture to Make a Statement
Adding small accent furniture pieces in the bedroom makes your space look modern and updated. Items like ottomans and benches add more seating to the bedroom, and they come in a variety of styles, shapes, and upholstery patterns and colors. Look for nightstands that make a statement such as a two-drawer piece with a rustic wood finish. Modern nightstands accented with mirror drawer fronts or metallic tones can transform your bedroom into a glamorous space and is also easy to maintain.
   

Make Your Bedroom Cheerful with Textiles
Changing beddings, rugs, or curtains is one of the easiest contemporary fresh looks you can give to any space. Easy décor ideas can transform the entire look of the room. Swap old neutral-colored fabrics with something colorful and playful. If you're concerned about privacy, noise, or sunlight, add a pair of light-blocking curtains to your windows for restful a sleep. A new area rug can easily uplift the feel and vibes of your bedroom space. Toss new throw pillows on the bed or a throw blanket in a bohemian design to bring your bedroom to life.
   

Create an Oasis with Upholstered Beds
If you need romantic bedroom décor ideas, an upholstered bed is a beautiful choice. Upholstered headboards not only soften the look of your bedroom but also promote a sense of warmth and tranquility. Look for button-tufted upholstery to create a classic, romantic vibe. If you prefer something more modern, try channeled upholstery featuring vertical "stripes" instead.
Add Mirrors to the Mix
Mirrors can make any room look spacious and open. When you think about master bedroom ideas, choose mirrors that showcase your personal style. Mirrors make lights bounce off from various angles and distributes it to add depth to the room. Choose mirrors that feature unusual frames made of wide wood with a textured finish. Your mirror should be front and center in the master bedroom, so hang it somewhere prominent. Floor-length mirrors are also a great addition, they are not only elegant but also add to the functionality of your bedroom.
   

Finish the Look with Lighting
Whether it's a crystal chandelier over your bed or a pair of modern sconce lights, the lighting you use makes a great impact on the way your bedroom looks and feels. Light pieces in the form of side lamps, ceiling lights, spotlights, standing lamps and antique hanging lanterns are a few options that you can utilize to amplify the room. Wall sconces are another great option, especially if your bedroom is small and you need as much surface space as possible. If you have a chair in the corner of the bedroom, consider a nice floor lamp so you have a place to curl up and read or relax before bedtime.