Tips for Amazing Home Décor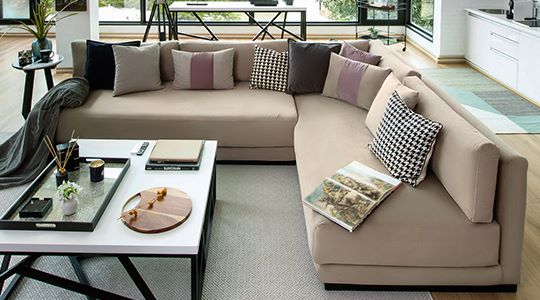 Choose the Right Seating for Your Living Room
As you start to ponder how to design the perfect living room, the seating should always be your priority. Depending on the size of your living space, you'll want to choose between standard sofas or large sectional ones. If your space is smaller, the L-shaped sofas, loveseats, or sofa chairs are also a few compact seating options that you can explore. When it comes to entertaining, sectionals are an amazing option due to their roomy silhouette and large area to move around conveniently. Recliners are another great choice for a living room, especially if you love to lie back and rest at the end of a long day. Measure your living room to determine which type of seating will fit best in the space.
Don't Interrupt the Flow
The flow of your room is crucial in designing the perfect outlook for your living room. Make sure you arrange your furniture so that it's easy to walk from one corner to another. Buying new items for your home is fun, but you don't want to have so many things that it becomes overwhelming. Draw out a few different layouts to help you determine the best way to arrange your furniture. If you're short on floor space, try to keep bookcases and other items against the wall so the center of the room is open. Seating should always be close together so your guests can converse and enjoy each other's company.
Choose Furniture with a Purpose
Every item you add to your space should be beautiful, but it should also serve a specific function. If storage is a concern, look for items like storage benches and ottomans where you can hide extra throws, cushions and pillows etc. Accent tables should include drawers or shelving, so you always have a place to stash smaller items like magazines or remote control. If you have an open floor plan, consider a console table to help break up the room. Think about the purpose of your space when you look for furniture so that you can get convenience along with style.
Remember the Details
Of course, designing the perfect living room also includes the little details that give your space depth and personality. Hang a few works of art on the wall or display some sentimental photos on a bookshelf. Choose interesting fabrics, contemporary patterns and colors that add a touch of elegance yet boldness to your rooms. If you don't have a lot of natural light, consider adding a pair of table lamps or a floor lamp for additional light. Pick out some decorative accents like a colorful glass vase or a unique sculpture. Each accessory you add to your living room will help uplift the space and make the space more enjoyable.
Choose a Dramatic Table for Your Dining
Dining room tables are the centerpiece of that room, so you want to choose something that's bold and unique to make this space amazing. Consider dining room tables with a trestle or sculptural base that will add an artful element to the room. Your dining room table should be spacious enough to accommodate everyone comfortably. Look for products that feature durable materials that are sturdy and able to resist stains and smudges. The table is the focal point, so choose wisely and discover something unique for your home. Dining rooms are the heart of the home so finding the perfect table with complementing chairs will help you host the best gatherings for your loved ones.
Add Artwork
Art is necessary to showcase your personality and make a statement. Artwork is an easy way to make any space more beautiful. Like for example for the dining room, hang a large piece of art over a dining room cabinet or on the largest wall that you face. If you prefer to display smaller pieces, showcase several different works of art in varying sizes. Hang them all together in a group to form a unique gallery wall or spread them in an abstract manner to attract your guests. Not only will it make your space more beautiful, but it's also a great way to spark some interesting conversations between you and your guests.
Place a Centerpiece
A stunning centerpiece placed in the center of your room will instantly make your room look beautiful. Look for items that add color, texture, and style to your table like a large vase filled with flowers, a festive wreath, or several candles with beautiful glass or metal holders. The centerpiece can easily be changed to fit the seasons, and it's a fun way to dress up your dining room by getting creative with different items, colors, and designs.